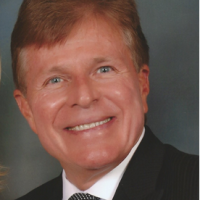 S. John Wilkins, III
Advisor
Primary Specialty:  Business Strategy
Experience: 40+ years business in Aerospace, Automotive, and Real Estate
Acquisition
Master of Business Administration with a Management Concentration from Ohio University.

Bachelor of Science, Cum Laude, in Mathematics – Computer Science from Ohio University.
Mr S. John Wilkins, III, brings to the Ostentus' Advisory Board more than forty years business strategy expertise in a variety of industries including aerospace, automotive, and real estate acquisition.
After receiving his MBA from Ohio University, John Wilkins was recruited by Ford Motor Company in Dearborn, Michigan where he worked in seven divisions of the company.  He relocated to Southern California with Ford Aerospace which was Newport Beach's then largest employer.  John spent a decade in marketing and human resources supporting numerous Department of Defense programs where he held a Top Secret clearance.  
John transferred to Houston with Ford Aerospace as a Director to support NASA and Human Spaceflight at the Johnson Space Center including Mission Control, Shuttle, and Space Station programs. With the consolidation of the aerospace industry in the 1990s, Ford divested its aerospace corporation to Loral which then transitioned to Lockheed Martin.  As Vice President of Human Resources, John helped integrate the cultures, practices, and procedures of the NASA space operations components of Ford, IBM, Loral, Lockheed, Martin Marietta, GE, and RCA into Lockheed Martin Space Operations.  In addition to the Johnson Space Center, John had HR responsibilities for LM programs at Kennedy, Goddard, Stennis, and Marshall Space Centers, and at Ames, Langley, and Dryden Research Centers.  After retiring from Lockheed Martin, John continued to pursue multi-family and other real estate endeavors.  
John has been active in the Houston community, serving in various organizations, including Bay Area Houston Economic Development Partnership Executive Committee and Board of Directors, St. John Hospital Board of Councilors, Juvenile Diabetes Research Foundation Board of Directors, University of Houston-CL Community Partners Council, E.A. Smith YMCA Board of Directors, Clear Creek Independent School District Education Foundation Board of Directors, Lunar Rendezvous Board of Directors, and Rotary National Award for Space Achievement Foundation Board of Advisors. 
John has been married to Shari, his best friend and the love of his life, for over 30 years, and he is blessed with his daughter Nicole Rose and son S.J., IV.
John attends Clear Creek Community Church in Houston where he has been fortunate to participate with the team responsible for campus site selections for expansion for over 25 years.  When he is in Orange County, he attends Mariners Church.